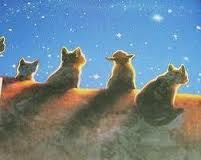 \
Welcome to the Gathering!
Edit
You pad into the gathering,anxious to meet new cats.It is an honnor to be chosen for this event.You wonder if you'll meet new friends,or see old friends.You pad into the mass of different colored pelts,and wait for the gathering to begin...
Leader Speeches
Edit
Leaders Owners need to edit this section and post their words.
Silentstar: Jumps to the top of the tree and meows to the other leaders Greetings.I see that Thunderclan is not here yet.
Cats of Authority
Edit
Riverclan
Edit
Leader:
Deputy:
Medicine Cat:
Open
Shadowclan
Edit
Leader:
Open
Deputy:
Open
Medicine Cat:
Leader:
Open
Deputy:
Medicine Cat:
Open
Thunderclan
Edit
Leader:
Open
Deputy:
Open
Medicine Cat:
Open